Last year, B&R Beurs celebrated its first lustrum. In the past 5 years, the association grew out of nothing into a wealth of knowledge and enjoyment. What will the future bring us? The Norse goddess Gullveig, or Goudrous in Dutch, shall reign over the upcoming year and guide us towards a path greater then the sum of our individual members.
Lustrum Theme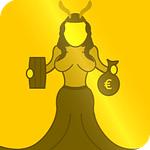 Gullveig, where Gull- means gold and -veig is associated with alcoholic drinks. Thus, our theme means serious business. According to Norse mythology, Gullveig could see the future. A future richly decorated with special activities to understand the true meaning of live. Gullveig was a very persistent goddess, she was stabbed trice, and survived all three attempts.
May the most persistent of our members survive as well!
Lustrum Conundrum
A unsorted list of past announcements and other important information.
"Lustrum colors:
Navy Blue 
B&R Gold" 
Lustrum Organization